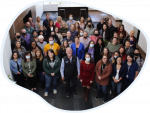 We're looking for people to join ATC who are as excited as we are to help our customers by bringing value and efficiency to the automotive title and registration process. We are proud of our collaborative, growth-oriented culture and offer benefits, including paid vacation and holidays, health and life insurance, and a 401k plan.
Dealer Account Executive
Do you love helping your clients succeed? Are you looking for a high-paced sales role that rewards performance with uncapped upside? Are you looking to join an industry leader with elite colleagues and an ambitious and collaborative culture? ATC is looking for a highly motivated Dealer Account Executive (DAE) interested in furthering their career in sales and client partnerships! Your primary responsibility is to sell ATC's industry leading Out of State processing service to automotive dealerships throughout the United States. As a new DAE, you'll receive training and development with tremendous opportunities for advancement as ATC continues to grow!
Duties/Responsibilities:
Conduct high volume outbound prospecting to generate qualified leads through calls, emails, and social media (150 tasks a day including 50 calls)
Communicate ATC's value proposition quickly and effectively to engage your audience through calls, voicemails, emails, and demonstrations
Meet and exceed where possible, monthly quota in assigned territory
Work closely and collaboratively with the leadership team on strategy to meet sales goals
Provide prompt phone/email follow-up to specific leads and properly document and track all activity in Salesforce.com
Coordinate sales efforts with marketing outreach initiatives
Track and deliver timely and accurate forecasting and pipeline management
Set yourself up for a successful career by learning effective communication skills and gaining experience talking to executive-level managers
Other duties as assigned
How will you get it done?
Drive & Grit – operate in a fast-paced and pay-for-performance environment with a focus and determination to achieve high-quality results
Engaging Presence – use your interpersonal skills to effectively engage with prospects, getting them excited to speak with you and learn more about our product
Team Orientation – perform well both independently and as part of a team
Education and Experience:
Bachelor's degree or equivalent work experience
Previous experience in an outbound inside sales organization or a related sales position
Disciplined approach to daily activity planning, setting goals, and achieving results as well as documenting all activity in Salesforce
The desire to meet and exceed measurable performance goals
Excellent written and verbal communication skills
Excitement about a fast-paced, challenging environment with a culture of winning
Confidence to prospect and develop new sales leads
The ability to comfortably respond to objections/rejections daily
Previous auto dealership experience a plus, but not required
Compensation:
$45,000 – $60,000/annually DOE plus uncapped commission
Additional Information:
ATC is an Equal Opportunity Employer
Controller
Reporting to the CFO, the Controller will be an integral member of the executive leadership team. The Controller will be charged with developing and implementing more sophisticated policies and procedures in both the accounting and finance functions. The position will be responsible for all aspects of financial management, including corporate accounting, regulatory and financial reporting, technical accounting, budget and forecast preparation, tax compliance, as well as the development of internal control policies and procedures.
Supervisory Responsibilities:
Oversees the daily workflow of the department
Train and mentor management-level staff
Provides constructive and timely performance evaluations to accounting team.
Partners with Human Resources to interview, hire, and handle disciplinary actions with employees in accordance with company policy
Duties:
Manage all aspects of accounting; billing, external financial reporting, general ledger, payroll, budgeting, accounts payable, accounts receivable, tax compliance, revenue recognition, external audits, and implement new accounting standards
Develop and maintain all necessary accounting policies and systems, including general ledger and financial reporting. Ensure that records are maintained in accordance with generally accepted accounting principles (GAAP).
Monitor and confirm financial condition by conducting audits and providing information to external auditors
Promote a culture of high performance and continuous improvement that values learning and a commitment to quality
Ensure the company complies with all legal and regulatory requirements
Coordinate relationships with lending/financial institutions
Oversee payments of all accounts, including loans, ensuring all accounts are paid on time
Monitor working capital, including monitoring of all debt agreements
Monitor cash and funding balances
Perform budget analysis and communicate insights and variance explanations with senior management
Mentor, develop and train junior staff
Additional controller duties as necessary
Identifies, recommends and implements new processes, technologies, and systems to improve and streamline accounting processes.
Presents periodic performance reports and metrics to the President of the company.
Required Skills/Abilities:
Excellent verbal and written communication skills.
Strong supervisory and leadership skills
Extensive knowledge of the principles, procedures, and best practices in the industry.
Excellent organizational skills and attention to detail.
Strong analytical and problem-solving skills.
Proficient with Microsoft Office Suite or related software.
Education and Experience:
Bachelor's degree in Business Administration, Accounting, Finance, or related field
Certified Public Accountant (CPA) or Certified Management Accountant (CMA) license required
At least 10 years of accounting/finance related experience including three years in upper management required.
Previous experience in controller or senior management role required
Experience in Accounting software; QuickBooks and Sage experience desired
Advanced knowledge of finance, accounting, budgeting, and Gernally Accepted Accounting Principles (GAAP)
Additional Information:
ATC is an Equal Opportunity Employer
Compensation:
120,000-150,000/annually DOE
Dealer Account Manager
Do you love helping your clients succeed? Are you looking to join a fast-paced, industry-leading sales team to nurture and grow our existing partners? ATC is looking for a highly motivated Dealer Account Manager (DAM) interested in furthering their career in client partnerships and is motivated to help drive revenue! Your primary responsibility is to grow and retain ATC's existing automotive partnerships throughout the United States. As a new DAM, you'll receive training and development with tremendous opportunities for advancement as ATC continues to grow! In this role, you will own a large and significant set of client relationships and be responsible for managing all post-sale client communication from onboarding, to KPI reporting and renewals.
Duties/Responsibilities:
Post sales close, set your clients up for success with a detailed onboarding process and regular check-in calls to ensure ATC's product and customer service are exceeding their expectations
Use internal tracking systems to ensure all clients are utilizing ATCs products and provide education/training as needed
Maintain deep expertise and knowledge of all of ATCs products
Partner cross-functionally to troubleshoot and escalate issues, including providing regular feedback and continuous recommendations for process and documentation improvements
Support sales counterparts to ensure they have the tools and insights to grow client relationships
Support sales team revenue target through effective execution of client product adoption and contract renewals
Other duties as assigned
How will you get it done?
Knowledge expertise – You are an expert advisor on product knowledge and capabilities to prospects, current clients, and internal teams
Engaging Presence – use your interpersonal skills to effectively engage with prospects, getting them excited to speak with you and learn more about our product
Team Orientation – perform well both independently and as part of a team
Education and Experience:
Bachelor's degree or equivalent work experience
Previous experience in client success or a related position
Excellent written and verbal communication skills; adaptable to technical and non-technical audiences of all levels of an organization
Disciplined approach to daily activity planning, setting goals, and achieving results with the ability to be flexible and respond to clients in a timely fashion
Excitement about a fast-paced, challenging environment with a culture of winning
Detail-oriented and highly organized
Strong product and technical knowledge combined with business acumen
Previous auto dealership experience is a plus, but not required
Compensation:
On Target Earnings (OTE) of $58,000-66,000/annually DOE
Additional Information:
ATC is an Equal Opportunity Employer