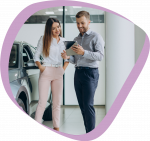 For automotive dealers
[

Full service title and registration processing

]
Our most popular offering and designed specifically for top automotive dealers, ATC's full service title and registration processing is the white glove solution for all of your out of state title and registration needs, saving you time and money. This solution is ideal for dealers with multiple out of state transactions each month.
For automotive SaaS companies
Automotive SaaS companies can access our robust tax, taxable value calculation, and registration fee database, as well as our required documents database for every jurisdiction in the country. This solution is ideal for SaaS providers looking to provide a seamless experience for car buyers.
Self-Service
Access our robust databases to help simplify the out-of-state title and registration process. Ideal for financial institutions, fleet management companies, and dealers with a low volume of out of state transactions (one per month) who prefer to complete title and registration work internally.