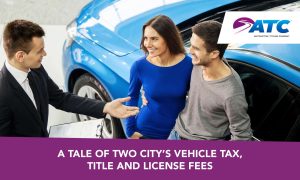 "It was the best of times, it was the worst of times…" is how Charles Dickens' classic "A Tale of Two Cities" begins. For this blog post, the Automotive Titling Company (ATC) is taking some poetic license and titling our post, "A Tale of Two City's Vehicle Tax, Title and License Fees." It is meant to show that if you have bad TT&L data, out-of-state transactions can really be the "worst of times."
To show how complicated this process really is and how drastically different two locations' tax rates, registration and titling fees can be, we will be using the same vehicle, being titled and registered in two different cities. The vehicle is a 2021 pickup truck, and the two cities are Brookfield, Wisconsin, located in Waukesha County, and Fort Lauderdale, Florida, located in Broward County.
The truck's purchase price (Base Price) and MSRP are $50,000, it weighs 4,200 pounds, and its gross vehicle weight (GVW) and gross vehicle weight rating (GVWR) are both 5,000 pounds. The transaction also had an included documentation fee of $200.
Both out-of-state transactions were run through the ATC platform to show the differences in TT&L fees and documentation requirements.
The pickup truck registered in Brookfield, WI is taxed at a 5% state tax rate, with a registration fee of $100 that is based upon the GVW of the vehicle. Additionally, a title fee of $164.50 and a lien fee of $10 is charged.
The same pickup truck registered in Fort Lauderdale, FL is taxed at a 6% state tax rate, and is charged a county flat tax of $50 and total registration fees of $301.60, also based on the GVW of the vehicle. Title fees add on an additional $77.25.
The total tax, title, and registration fees for the same pickup truck are $2,829.00 when titled in Brookfield, WI and $3,465.85 when titled in Fort Lauderdale, FL (less ATC fees and mailing costs).
That's a difference of more than $600, but the real cost of out-of-state transactions is how much time your staff spends searching for information and verifying it is accurate. ATC customers have completely up-to-date information like this at their fingertips and finding it takes only seconds. Pardon the pun, but out-of-state titling and registration can really be the dickens if you do not have accurate data.
Automotive Titling Company (ATC) works with the DMV every day to prevent "the worst of times" for your business. As you can see, TT&L fees and requirements can differ dramatically from one location to another, so having accurate TT&L data is crucial. ATC provides the industry's most accurate tax, title, and registration fee information to make the car buying experience easier for shoppers and more profitable for dealers, lenders, and auto technology companies. We work with every DMV, in every jurisdiction in the country, to make it easier for you to sell cars. To learn more, contact us.