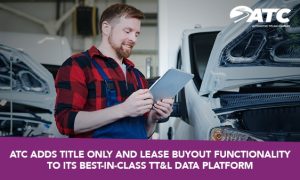 Automotive Titling Company (ATC) is pleased to offer Title Only and Lease Buyout functionality to the ATC platform to help make these complex transactions, simple!
"This is something that had been available to dealers for a while, but the process was very manual, and to be honest, a bit time-consuming," said Marcus Alley, VP Strategic Initiatives at ATC. "But dealers that used it still appreciated being able to process their Title Only and Lease Buyout transactions through ATC so we decided to make processing them easier and faster and add it to the platform. Now you can process all of your transactions through ATC and increase efficiencies to scale your business!"
Title Only transactions are needed when a vehicle is purchased from a dealership and the title transfers from the dealership to the lienholder, but the buyer pays the registration fees with the DMV. Lease Buyout transactions are when a buyer purchases their vehicle before the end of the lease contract. Both types of transactions are rapidly gaining in popularity and this added functionality can help you simplify your titling procedures so you can process transactions faster and more efficiently.
The update to your ATC platform includes:
New "Register a Vehicle" page, which has been revamped as a three-column page so you can input all information without having to scroll down.
New Transaction Types, including Title Only and Lease Buyout, have been added to the "Transaction Type" dropdown. Both can be selected to fully register a vehicle and return all pertinent documents and applicable fees & taxes.
New Fields, including Rim Size (inches), Number of Tires, and Number of Axles. These new fields currently have no impact on vehicle registration but may in the future.
Get Taxable Value is now above the third column of "Vehicle Information," and all applicable transaction notes now appear above the three columns.
Get Fees (Title Only). Since registration fees are not required on Title Only transactions, they have been removed from the Title Only fee sheet.
Fee sheets, checklists, and documents have all been updated for both transaction types to show what fees and documents are due. This means you don't need to request more from the customer than what is necessary to process the transaction.
If you're not already an ATC customer, we invite you to try ATC for 15 days free with no obligation. You get unlimited quotes during the trial period and have access to all document checklists. Just click here to get started.
Auto Titling Company (ATC) exists to provide accurate tax, title, and registration fee information to make the car buying experience easier for shoppers and more profitable for dealers, lenders, and auto technology companies. We work with every DMV, in every jurisdiction in the country, to make it easier for you to sell cars. To learn more, contact us.