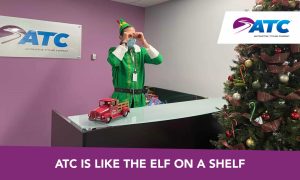 The Elf on the Shelf – the adorable holiday tradition featuring a grinning elf that watches and protects your home during the day and moves around at nighttime – got us thinking that our Dealer Dashboard is kind of like that; always watching your out-of-state transactions to keep them on track. But in a good way, not a creepy way.
Since we're in the holiday season and spirit (and eggnog!) and everyone loves end-of-year countdowns and lists, we thought we would present the Top 5 most common issues that cause an out-of-state transaction file to go to the 'Needs Notice' section of the ATC Dealer Dashboard. When a file goes to 'Needs Notice,' it delays its processing and turnaround time so the ATC Elf on a Shelf is always watching to make sure you complete all the items on your checklist.
In no particular order, here are the "Top 5 Issues That Cause Out-of-State Transactions to Go to Needs Notice:"
Thoroughly review your checklist. Did you forget to include something with your file? Yes, you did. And the Elf will remind you.
Powers of Attorneys either not sent or sent with no notary. Remember, vehicle transactions are complicated and if it requires a POA, it must be included and notarized. Keep your notary busy and feeling special! If you happen to mail in documents separately, please make sure to always include an ATC coversheet containing the VIN. This will help us associate your documents to the proper file.
Insurance requirements not being met. Minimum car insurance requirements vary from state to state so make sure to read the checklist for accurate insurance requirements for your transactions.
Taxable items being ignored on the fee sheet. Make sure you collect the correct amount of money up front by always paying close attention to the highlighted taxable items on your fee sheet. That's why we highlight them – they're important!
Proof of residency. Again, always read the checklist to make sure you include all proof of residency documents in your file.
These are the most common issues that hold up an out-of-state transaction from being processed efficiently and in a timely manner. But the ATC Elf on a Shelf is always watching and will notify you via a 'Needs Notice' in your Dealer Dashboard.
The best advice we can give to avoid 'Needs Notice' slowdowns is to enter as much information, as accurately as humanly possible (or as "elf-ly" possible) during the quoting process so your checklist will include everything you need. Skimming or taking shortcuts during quoting will create issues that will 'need notice.'
Oh, and one more reason the Dealer Dashboard is like Elf on a Shelf: much like kids think the elf is magic, there is always a real person creating that "magic" by moving him around, dressing him up, etc. ATC creates the "magic" by doing the work behind the scenes to make sure your out-of-state transactions are magical, merry, and joyous – all year long!
From all the TT&L elves at ATC, we also hope your holidays are magical, merry, and joyous!
Automotive Title Company (ATC) works with the DMV every day to provide accurate tax, title, and registration fee information to make the car buying experience easier for shoppers and more profitable for dealers, lenders, and auto technology companies. We work with every DMV, in every jurisdiction in the country, to make it easier for you to sell cars. To learn more, contact us.