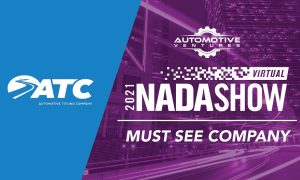 Steve Greenfield of Automotive Ventures is always on top of what's happening in the automotive industry and has named ATC as a "Must-See Company" at the 2021 Virtual NADA Show, the industry's top marketplace of products and technologies.
"I really like ATC because they solve some of the hardest problems in digitizing dealership workflows focused specifically at enabling online transactions," said Greenfield, an automotive industry veteran.
Automotive Ventures is the leading resource for automotive technology entrepreneurs. It is always researching and introducing the industry to companies that offer unique services and technology. It is a well-known and respected authority in the areas of technology investments, mergers and acquisitions, investment banking, and growth strategies for companies for the automotive industry.
"2020 was a challenging year for the entire industry," says Marcus Alley, VP of Strategic Initiatives, "But challenges lead to opportunities, and 2020 was a busy year for ATC. We launched several new services, including the ATC AGF API, which allows automotive businesses of all types to access our industry-best database of tax, title & license information. The ATC AGF API allows digital retailers, desking tools, auto lenders, insurance providers, and Dealership Management Systems (DMS) to calculate all in-state or out-of-state taxes and registration fees in real-time for any jurisdiction in the US. We also introduced innovative pricing and usage models, all of which are meant to help our clients process more transactions."
"It is incredibly rewarding to have Automotive Ventures recognize that fact by naming us a 'Must-See Company at the 2021 Virtual NADA Show.' As one of only 20 companies to make the list, we know we're in good company!"
To view the video, just click HERE
ATC provides dealers, lenders, and auto technologies accurate TT&L data for in-state and out-of-state vehicle title and registration. For more information about how to create a better, seamless offline to online experience, feel free to reach out to api@autotitling.com.