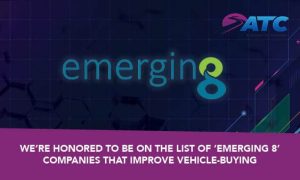 Automotive Titling Company has been named to the "Emerging 8" list, an award program designed to honor companies that aim to improve a specific aspect of the vehicle-buying process through innovative use of technology.
"We are extremely honored to be named to the 'Emerging 8' list," said Ken Alley, Chief Executive Officer of ATC. "It's always nice to be recognized for the work you do, but it's also an affirmation that the products we have brought to market, and the services we offer, are making an impact in the automotive industry. We set out to make the car buying experience better by providing the best out-of-state tax, title and registration (TTR) software, data and services, and it's nice to see that others agree."
The "Emerging 8" award program is presented by Cherokee Media Group, publisher of Auto Remarketing and Auto Fin Journal, and honorees are selected by the Cherokee Media Group staff, leveraging guidance from the Auto Intel Council and other industry leaders.
"We're in good company," Alley said, referring to the other 7 companies on the "Emerging 8" list. "The list covers all aspects of fintech development, from vehicle marketing and retail, to data privacy. The entire automotive wholesale and retail process has been changed and we're all trying to make the process even better for vehicle buyers."
Thousands of dealerships across the country rely on ATC to process their out-of-state vehicle transactions and the company recently introduced an API that integrates with online automotive applications. The proprietary ATC database contains 19 million unique TTR combinations covering all of the 11,000 tax jurisdictions in the U.S., making ATC the most comprehensive and only independent platform available.
For more information about how we help traditional and digital dealerships and retailers, automotive credit providers, loan aggregators, and many others create a better, more seamless automotive sales experience, feel free to reach out to info@autotitling.com.