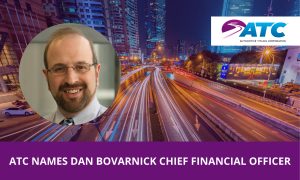 ATC Names Daniel Bovarnick Chief Financial Officer
Automotive Titling Company (ATC), the industry leader in technology solutions for processing tax, title, and registration for out-of-state vehicle purchases, announced today that it has appointed Daniel Bovarnick as Chief Financial Officer.  With multiple prior CFO roles at PE-backed companies, Bovarnick brings more than 30 years of experience leading finance functions at companies spanning multiple industries. Prior to his background in private companies, Bovarnick spent 10+ years in roles of increasing seniority at American Express and Comerica Bank.
Backed by private equity firm Polaris Growth Fund, ATC serves thousands of automotive dealerships by providing the industry's fastest and most reliable title and registration processing, enabling dealerships to focus on what they do best – delighting customers and increasing sales. ATC also offers a powerful API product enabling lenders and technology providers to quickly calculate both in-state and out-of-state taxes and registration fees in their online applications.
"My passion is turning analytics and data into insights, and for my next adventure I wanted to apply this passion for a clear industry leader with a strong management team.  ATC fits the bill perfectly as it is a data driven company with a clear leadership in Tax, Title and Registration services," said Bovarnick.  "Equally important, the company has a committed leadership and core team that is highly committed to winning in the marketplace via a values-led approach, and I appreciate the opportunity to contribute and enhance those values of Accountability, Transparency, and a Customer-first mindset.
ATC chief executive officer Kane McCord welcomed Dan's arrival. "Having led finance functions before, and overseen multiple CFO searches, we are thrilled and grateful to attract someone with Dan's unique skill set.  His combination of leadership at PE-backed growth companies and large company experience is a great fit for our needs – I have already learned a great deal from Dan and he has already enhanced and extended our strong culture."
Bryce Youngren, Managing Partner of Polaris Growth Fund added, "We are excited about ATC's growth prospects and its market leadership position, and were fortunate that we had met Dan via his interactions with another portfolio company. As a board member, I welcome Dan's financial acumen as it will help all of ATC's leaders and board members make faster and more informed business decisions.
***
This press is release is available for download here.