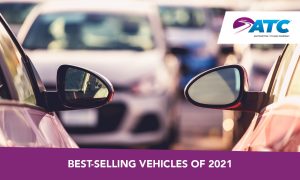 2021 was a strange year in the automotive industry. We had to deal with COVID, chip shortages, supply chain issues, the Great Resignation – but still, vehicle buyers showed up at dealerships and bought cars and trucks.
The list of the Top 10 best-selling vehicles from 2021 doesn't hold many surprises but does show recent buying trends remain consistent. That is, SUVs and pickup trucks rule the road. Although to be transparent, the top 3 entries on the list are vehicle lines, not a single model, which slightly skews their numbers.
The 10 best-selling vehicles of 2021 were:
Honda Civic (263,787 sold)
In its 49th year of production, the Civic can be had as both a sedan or hatchback, with an available manual transmission for a sportier feel.
Toyota Highlander (264,128)
With 3-rows and seating for up to 8, this best-selling SUV enjoys good reliability ratings and solid resale value.
Jeep Grand Cherokee (264,444)
Beloved by families, the Grand Cherokee can seat 5 and has an upscale interior not meant for off-roading or mudding! A roomy cargo area doesn't hurt, either.
Nissan Rogue (285,602)
The all-new 2021 edition of the Rogue features a quieter cabin and updated styling. All-wheel drive is an option, as are five drive modes for different road conditions.
Toyota Camry (313,795)
The Camry was the best-selling sedan in 2021 and continues Toyota's long history of excellent reliability ratings and high resale value. The Camry offers a choice of 4-cylinder or V6 engines, and a hybrid option.
Honda CR-V (361,271)
The Honda CR-V has a spacious interior and lots of cargo space, plus Honda's good reliability ratings and resale value.
Toyota RAV4 (407,739)
The best-selling SUV for 2021 was the RAV4 with its excellent reliability ratings and range of trim lines, including an off-road package and a plug-in hybrid version.
Chevrolet Silverado (529,765)
The Silverado line includes full-size, heavy-duty and medium-duty pickups with high tow ratings and trim levels from basic to luxury.
Ram Pickup (569,388)
The Ram line includes the 1500, 2500, and 3500 and offers multiple engine choices and a wide range of options.
Ford F-Series (726,004)
The top spot is held by the F-Series pickup line, including the F-250, F-350, and F-450. Trim packages range from basic work truck to family cruiser.
To show how things have changed (or stayed the same), here are the top selling vehicles from each year of the 1980s. Did you have any of these models?
1980: Oldsmobile Cutlass (469,573 sold)
1981: Oldsmobile Cutlass (454,188)
1982: Ford Escort (337,667)
1983: Oldsmobile Cutlass Supreme (331,179)
1984: Chevrolet Cavalier (383,752)
1985: Chevrolet Cavalier (422,927)
1986: Chevrolet Celebrity (408,946)
1987: Ford Escort (392,360)
1988: Ford Escort (381,330)
1989: Honda Accord (362,707)
No matter what type of vehicle is the most sold in any given year, Automotive Titling Company (ATC) provides the industry's most accurate tax, title, and registration fee information to make the car buying experience easier for your shoppers and more profitable for dealers, lenders, and auto technology companies. We work with every DMV, in every jurisdiction in the country, to make it easier for you to sell cars. To learn more, contact us.
(Source: Kelley Blue Book, 2022)