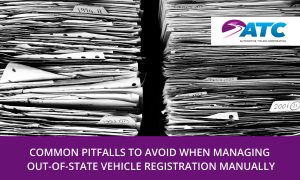 Common pitfalls to avoid when managing out-of-state vehicle titling and registration manually
If you own a car dealership that sells vehicles to customers in other states, you know how complicated and time-consuming out-of-state vehicle titling and registration can be. From managing paperwork and tracking deadlines to ensuring compliance with different state regulations, the process can quickly become overwhelming. That's why many car dealerships are turning to specialized software and processing partners to make out-of-state vehicle registration easier and more efficient. 
However, if you are still managing out-of-state vehicle registration directly or with manual solutions, there are several pitfalls that you should be aware of and try to avoid. Here are some common mistakes to watch out for: 
Failing to track deadlines
One of the biggest challenges of out-of-state vehicle registration is keeping track of the different deadlines for each state. It's easy to lose track of when paperwork needs to be submitted or fees need to be paid, which can result in missed deadlines and potential legal issues. To avoid this, it's important to have a system in place for tracking deadlines and ensuring that they are met. 
Incorrect information
When completing out-of-state vehicle registration paperwork manually, there is a risk of making mistakes or providing incorrect information. This most commonly includes calculation errors, but also often includes errors in spelling, addresses, or vehicle information. To avoid these issues it's important to ensure you have access to real-time and accurate quoting information for all your tax, title, and licensing work, while also ensuring that all paperwork is double and triple checked for accuracy.
Missing or incomplete paperwork
In order to register a vehicle in another state, you must provide a complete and accurate set of paperwork. This includes registration forms, titles, and other documents that are specific to the state where the vehicle will be registered. If any of this paperwork is missing or incomplete, the registration process can be delayed or denied. To avoid this, it's important to make sure that you have all of the necessary paperwork before starting the registration process.
Failure to work effectively with an out-of-state DMV
One of the hardest facets of submitting an out-of-state title application involves collaborating with an unknown titling agency. The biggest mistake a dealership can make is ineffectively tackling this hurdle. Are you communicating with the correct office? The correct representative? Are they giving you correct information? Once you've sent your submission off, how will you get updates on your title application? Failure at any one of those points may result in a rejected and returned title application. If you do get approval, will their office provide you with the registration receipt you need to maintain lender relationships? To avoid failure at any of these points, you may want to consider involving a third party who regularly collaborates with the local DMV and has already tackled these hurdles.   
Overall, managing out-of-state vehicle titling and registration manually can be challenging, but it is possible with careful planning and attention to detail. By avoiding these common pitfalls, you can ensure that the registration process goes smoothly and that you are able to register your vehicles in other states without any complications. If it sounds like managing out-of-state vehicle titling and registration is too much of a hassle, consider using a automotive titling company to facilitate the process. 
—