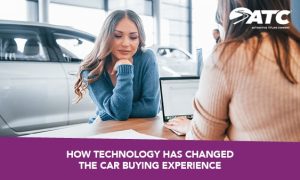 The only constant in life is change.
Cliché? Maybe. True? Absolutely, especially in the automotive industry the last decade or so.
In general, car buyers become familiar with new models through commercials, ads, or word of mouth. When they are in the market for a new car, they do research before heading to the dealership to test drive and purchase. How has technology impacted the car buying journey? Here are four ways technology has forever changed the car buying experience.
Research
It should be no surprise that car buyers begin their purchase journey by researching online. What is interesting is that car buyers no longer primarily rely on OEMs and dealerships for their research; most of them, 56%, begin at third-party sites, and not at the brand or dealer sites. (AutoTrader)
These car researchers don't limit themselves to just one site to find information. In fact, car researchers visited an average of 4.3 websites in their purchase process, including third-party sites, which 80% of researchers visited, OEM sites (27%), and dealership sites (40%). The most-visited third-party sites include Kelley Blue Book, AutoTrader, Cars.com, Carfax, and Edmunds. (Cox Automotive)
Mobile
Smartphones and tablets are an integral part of the car buying journey.
To show just how important mobile devices are to a car buyer, consider these statistics:
  60% of all automotive searches come from a mobile device and some of the top mobile searches are related to dealerships (Google)
  48% of new car buyers use their smartphone for information gathering while at the dealership (JD Power)
  69% of car buyers say it is important to have their smartphone with them while shopping for a car (AdColony)
Virtual Shopping
COVID accelerated the move from visiting a showroom, to virtual showroom visits at dealerships, but that change was happening even before COVID started.
  86% of car buyers said they shopped online to save time at the dealership (Kelley Blue Book)
  34% of new vehicle buyers visit only one dealership (Cox Automotive)
  With online video, shoppers can experience parts of the car buying journey that could previously only be done on the lot, such as vehicle walkarounds, feature demos, and video "test drives" (Google)
  The watch time of test drive videos on YouTube has grown by more than 65% in the past 2 years (Google)
With technology, most of the new car buying journey can take place virtually with showroom "visits," demonstrations, and videos, all from the shopper's mobile device, or from their own home.
Friction
Online shopping has made consumers much less patient, and one major purchase that has always been complex, time-consuming, and full of friction, is buying a car. But seamless and easy experiences are what the new car buyer requires. Technology has made this (close to becoming) a reality.
Having a technology platform that includes credit applications, financing, insurance, and tax, title, and license to speed the purchase process and keep it frictionless is crucial.
Consider this:
  18% of car buyers would purchase sooner if they could do so without going to a dealership (Google)
  By 2025, over 25% of global car sales will be conducted online (ZDNet)
  22% of car buyers have bought a car online and had it delivered by Carvana or Vroom, and 37% said they would be interested in this option (AdColony)
The bottom line is that a smooth, frictionless car buying experience is a requirement for the modern economy, and technology is helping to make that happen.
ATC provides dealers, lenders, and auto technologies accurate tax, title, and license data for in-state and out-of-state vehicle titling and registration. Contact us for more information about how our technology helps to increase car sales and remove friction from the car buying experience.