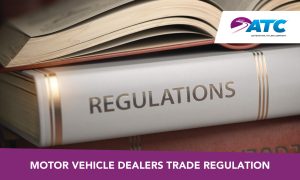 The Federal Trade Commission (FTC) has proposed a new rule related to the sale, financing, and leasing of motor vehicles aimed at dealers. The proposed rule would bar dealers from "making certain misrepresentations in the course of selling, leasing, or arranging financing for motor vehicles, require accurate pricing disclosures in dealers' advertising and sales discussions, require dealers to obtain consumers' express, informed consent for charges, prohibit the sale of any add-on product or service that confers no benefit to the consumer, and require dealers to keep records of advertisements and customer transactions."
The rule has been proposed because the FTC is concerned consumers never learn the true cost of their vehicle because of the growing number of add-on products and services dealers push during the sales process. The FTC is also concerned that in some cases, consumers don't realize that the add-ons are optional, or even know they are purchasing the add-ons.
Why was this rule proposed?
According to the FTC, owning a vehicle is essential for most Americans, with 84% of the population using a car or truck to get to work (as of 2020). Plus, over 95% of American households own at least one vehicle. It is an indispensable part of daily life, being used for work and school, getting groceries, childcare, medical visits, and just about every other thing Americans do outside of the home.
A car or truck is the second-most expensive purchase many consumers make, behind buying a house, and for many, it IS their most expensive purchase. The average new vehicle costs more than $42,000 and the average used vehicle costs more than $26,000. (NADA, 2021)
According to the proposed rule, the definition of "Motor Vehicle" means any self-propelled vehicle designed for transporting people or property on a street, highway, or other road. That includes cars, trucks, motorcycles, motor homes, RVs, and campers – essentially any vehicle sold through dealerships.
What does it all mean?
If the proposed rule takes effect, and many experts believe it will, it will:
Require dealers to obtain consumer consent

, meaning clear, written, and informed consent for any and all charges, fees, and conditions of sale, including any optional add-on products or services included in the purchase.

Prohibit bait-and-switch advertising

related to vehicle cost, financing terms, cost of add-ons, availability of discounts or rebates, and vehicle availability.

Prohibit junk fees,

add-on products and services that do not provide a benefit to the consumer, such as finance and insurance coverage and nitrogen-filled tires.

Prohibit surprise junk fees

, add-on products or services added to the purchase without clear, written consent.

Require the full up-front disclosure of costs and conditions

, including the true price of the vehicle, financing terms, costs of any add-ons, total amount of the monthly payment, and total number of monthly payments.

Maintain records

for at least two years on advertisements, marketing materials related to price, financing or lease terms, add-ons offered, consumer transactions, training materials, scripts, written consumer complaints, and records that demonstrate compliance with the rule.
If the rule goes into effect, compliance will be mandatory, and the FTC has made it clear that it is prepared to enforce it and bring actions against non-compliant dealers.
To read the complete proposed FTC rule, click HERE.
Although tax, title, and license fees aren't specifically covered in this proposed FTC rule, it's always good business to accurately disclose all costs to your buyers, including fees related to out-of-state titling and registration.
ATC provides the industry's most accurate tax, title, and registration fee information to make the car buying experience easier for your shoppers and more profitable for dealers, lenders, and auto technology companies. We work with every DMV, in every jurisdiction in the country, to make it easier for you to sell cars.
The truth is in the data: ATC is the fastest, most accurate TT&L data provider and when you GO ATC, you get the Greatest Of All Titling Companies!
***
To learn more, contact us.