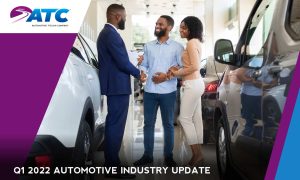 The last few years have seen unprecedented events affect the automotive industry, from COVID, to the growing influence of digital retailing, to the chip shortage impacting production. In this blog post, we summarize how things went in the first quarter of 2022.
Supply and Demand. There's plenty of demand for new vehicles, but the supply side is challenged, and when that happens, costs increase. According to J.D. Power, the average transaction price in March was $43,737 – 17.4% higher than last year, and the average monthly payment increased to $658.
Sales Slumped. First quarter sales dropped as vehicle production continued to be limited. According to NADA, sales in March were down 24.4% from last March.
Loyalty? What Loyalty? With inventory tight, vehicle buyers are switching brands faster than ever, just to buy something, not necessarily what they intended to buy.
Cars? What Cars? In the first quarter, compact SUVs, midsize SUVs, and full-size pickups accounted for 49% of vehicle sales in the U.S.
EVs Are Still Hot. Electric vehicle sales totaled 174,000 in Q1, the most for any quarter ever, and were up 76% from Q1 2021. Tesla's share of the EV market was 75%!
…And The Winners Are: The best-selling brand in Q1 was Toyota, and the bestselling vehicle was the Ford F-series pickup truck.
Q2 looks like it's going to be rough, as inventories continue to dwindle and dealer incentives dry up, but we've all been through worse, so the best way to stay competitive is to continue to differentiate from your competitors and give your customers the best buying experience possible.
Automotive Titling Company (ATC) provides the industry's most accurate tax, title, and registration fee information to make the car buying experience easier for your shoppers and more profitable for dealers, lenders, and auto technology companies. We work with every DMV, in every jurisdiction in the country, to make it easier for you to sell cars. To learn more, contact us.