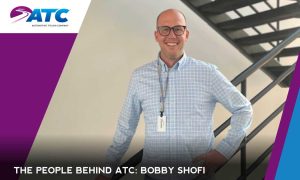 ATC is much more than a company – it is a collection of great people, and together, they make us the company we are. They also help simplify nationwide auto title and registration for you! All our team members are fantastic, and this month, we'd like to introduce you to Bobby Shofi.
What do you do at ATC?
I am the Director of Sales, which means I help develop, craft, and lead the ATC sales strategy. That includes our scope of services, business cases, channel strategy and alignment, sales model and Go-to-Market design, and sales, of course!
How long have you been with ATC? 
I have been here since January 2021, so a year and some change.
What first drew you to ATC, and what have you seen change over the years?
It was a combination of both the company and the role. I am passionate about this industry, and ATC offers a product and service that is both specialized and necessary. I thought, "What is better than selling something a lot of businesses need?" ATC is an established company with a start-up and entrepreneurial culture, the best of both worlds! ATC thrives on innovative ideas powered by ambitious people.
As a company, we've seen massive growth in both the data services and titling and registration side of our business. As digital dealers like Carvana and Vroom continue to make massive waves by challenging the traditional car shopping experience, the need for accurate title and registration data becomes more and more important.
How do you balance your career and personal life?
I try to find ways to prioritize my health, like taking breaks during the day to go for a walk with the dogs, play with my son, listen to music. I find that I'm happier and more productive at my job with these short "reset" periods.
What are your hobbies outside of ATC?
I love to play golf and I love to eat. The best is when I'm able to do both! My wife and I love to go hiking and explore new restaurants.
When you have 30 minutes of free time, how do you spend it?
I would play with my son. He's only 5 months old, but he loves his stories just like his dad.
What is your favorite thing about working at ATC?
The people I work with! Every day, I get to work alongside extremely talented, smart, and driven individuals. ATC also gives me the opportunity to meet extraordinary people outside of our organization in various lines of work and with diverse backgrounds. Gaining a new perspective from well-respected businesspeople is so rewarding.
Before ATC, what was your most interesting or unusual job?
One of the most interesting jobs I've ever had was working as a summer camp counselor between college semesters. I taught kids how to swim, play sports, shoot archery, paint, etc., and I could eat whatever I wanted! It was, without a doubt, the most fun I've ever had in any summer, and I got paid to do it!
Bobby is one of the many great people on the ATC team, and he helps us provide our customers the high levels of service they've come to expect. When you work with ATC, Bobby, and everyone else on the team, works tirelessly to ensure your title and registration work is done correctly and efficiently.