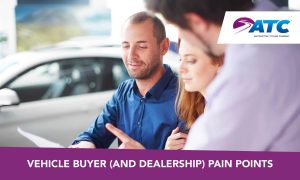 Technology has made buying things easy: order just about anything online, and it appears at your door the next day (or sooner!) Increasingly, consumers are looking for the same level of convenience when buying a car – but the automotive industry hasn't kept up with the technology to do so.
As a result, vehicle buyers encounter multiple pain points in their buying journey. But if you look at the pain points closely, there's really nothing new – they have always existed in the minds of car buyers.
Waiting. According to a recent study by CDK Global, 41% of vehicle buyers say that waiting at the dealership is the most frustrating part of the buying experience. The reason wait time is so long is that many dealership systems do not integrate with one another, forcing the staff to print information from one system, and manually enter the data in another.
Pressure. Buying a vehicle is stressful. It's a multiple year commitment to financing, the vehicle, and it's the second largest purchase many people make (next to buying a home), and for many, it IS the largest purchase they'll ever make. High pressure F&I managers that quickly explain options (some of which may not be in the buyer's best interest), and then go through an interminable checklist of add-ons, like extended warranties for wheels, windshields, etc., make this part of the process extremely stressful for buyers.
Too many people in the process. The salesperson. The F&I manager. The title and registration person. Being shuttled form one office to the next makes buyers feel like a cog in a wheel.
Paperwork. There is a lot of paperwork involved in buying a vehicle. You need to have your driver's license, proof of insurance, title to your trade-in, pay stubs and tax forms. Then you sign the purchase agreement, then the lien, then this, and then that… It's mind-numbing, and your customers don't like it.
Interestingly, the dealership has pain points too.
Data. Many systems don't link to one another, so data must be rekeyed several times during a transaction. As much as buyers don't like waiting while it happens, dealership staff also don't like it.
Internet sales. Yes, they are great for the dealership, but 47% of staff members dislike wasting time on duplicate leads, and waiting on their manager (25%).
F&I. Dealership staff cite document retrieval as the biggest area for improvement (53%), and lack of documents being able to be digitally signed (34%).
Consumers and dealerships are both looking to move beyond the industry's traditional, outdated sales processes, and the last few years has taught us that to make something easy to buy, it must be easy to sell. Since a vehicle purchase is expensive and many legal documents must be completed and executed in order to stay compliant with the myriad of regulations surrounding vehicle sales, the process may always be complicated. But knowing exactly what consumers find frustrating about the process can help you try to alleviate those pain points.
One of the best ways to differentiate your dealership from the competition is to give your customers the best buying experience possible.
Automotive Titling Company (ATC) provides the industry's most accurate tax, title, and registration fee information to make the car buying experience easier for your shoppers and more profitable for dealers, lenders, and auto technology companies. We work with every DMV, in every jurisdiction in the country, to make it easier for you to sell cars. To learn more, contact us.