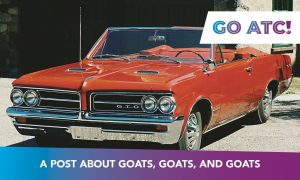 In this post, we'd like to talk about three types of goats.
First, sports GOATs – Greatest Of All Time athletes. This topic creates debates all the time; in living rooms, bars, at games… But we're not going to do that – the topic exists in this post purely as an example.
In basketball, is the GOAT Michael Jordan or LeBron James? In football, is it Tom Brady or Jim Brown? In baseball, is the GOAT Babe Ruth or Ted Williams? How about hockey? Wayne Gretsky or Gordie Howe?
Heck, the GOAT debate even extends to racehorses. Secretariat or Man o' War?
As long as there are sports, there will be sports GOATs debates – and that's the way it should be.
Next, the automotive Goat – the Pontiac GTO.
The Pontiac GTO was introduced in 1964 as an optional high-performance package for the Pontiac Tempest. It grew in popularity and these upgraded cars soon became known as muscle cars. The GTO is sometimes called "The Legend" or "The Great One," but "The Goat" is what many people call it.
People tend to shorten car names to a single syllable. The Corvette is a 'Vette. The Mustang is a 'Stang, and Barracuda is a 'Cuda. Goat became synonymous with GTO.
Regardless, we love the GTO in all its forms, from the modest 1964, to the classy and fast 1966, to the cool 1969 model.
Finally, we come to GOATS. That stands for Greatest Of All Titling Services, and that means ATC.
ATC is the out-of-state tax, title, and license data pioneer and is still the best. We provide the industry's most accurate information because we monitor every DMV jurisdiction in the country in real-time and update our platform as license and registration data changes. Plus, we can process your out-of-state titles and registrations in just 5 days compared to the 4-5 weeks it takes our competitors.
The truth is in the data: ATC is the fastest, most accurate TT&L data provider.
When you GO ATC, you get the Greatest Of All Titling Companies!
We promise to continue being the best and most accurate tax, title, and registration fee information provider to make the car buying experience easier for your shoppers. To learn more, contact us.