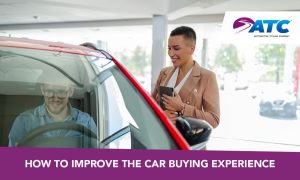 In our last blog post, "Vehicle Buyer (and Dealership) Pain Points," we mentioned how technology has made buying easier for consumers; order something online today, and it arrives tomorrow. Consumers are looking for a similar level of convenience when buying a car – but only to a point.
According to the Deloitte 2021 Global Automotive Consumer Study, 71% of vehicle buyers still want to buy a vehicle in person but with some parts of the process completed online to streamline the process, and make it less stressful and time-consuming.
The study found that consumers want to research vehicles and complete paperwork online and guide the financing process at their own pace. This includes learning about, and evaluating, add-ons like extended warranties in a less hurried and rushed way. But consumers prefer in-person test drives and vehicle evaluations.
The starkest fact the study found: most buyers only want to spend one hour at a dealership, at the maximum. Let that sink in – one hour.
So, to make the vehicle buying experience more convenient for consumers, consider these four ways to increase the convenience factor for your vehicle buyers.
Let them start the process online
Giving your prospective buyers the tools to start their purchase journey on their own – online –
saves both your customer and your dealership time. According to a recent Harris poll, buyers want to do these things at their own pace, online:
Search for a vehicle – 80%
Negotiate price – 78%
Schedule delivery of the purchased vehicle – 76%
Get a trade-in value / offer – 75%
Complete financing / credit check – 74%
Review / decide on insurance or extended warranties – 73%
Eliminate the purchase "gauntlet"
Shoppers dislike being taken from one office to the next to complete their vehicle purchase, and some dealerships are eliminating the F&I part of the process altogether, allowing buyers to complete the process online and sign documents in person.
Compete on the vehicle buying experience, not the vehicle
The days of selling cars solely based on their performance, features, mileage, and reliability are waning. Modern consumers are interested in a friction-free buying experience, so if you can provide a better experience than your competitors, you will win.
Go to them instead of making them come to you
Buyers still want to take a vehicle for a test drive and check it out up close so take the car to them at home or at work and let them drive it when it's convenient for them. If a buyer has completed financial paperwork online, this is also the opportunity to have them sign on the dotted line.
The process has changed and perhaps some of these some suggestions seem radical or outlandish, but consumers have changed. Consider all the "must-have" items of the past that no one uses anymore: film canisters, VCRs, pay phones, maps, telegraph machines, carbon paper, and outhouses.
We have seen incredible change in the automotive industry, shaped by both changing consumer habits and preferences, and the pandemic. Now is a great time to take a long, hard look at everything you do and ask, "can we do this better?" More to the point, can you engineer your sales process so your customer spends only an hour at the dealership, because that's what the goal should be.
Automotive Titling Company (ATC) provides the industry's most accurate tax, title, and registration fee information to make the car buying experience easier for your shoppers and more profitable for dealers, lenders, and auto technology companies. We work with every DMV, in every jurisdiction in the country, to make it easier for you to sell cars. To learn more, contact us.